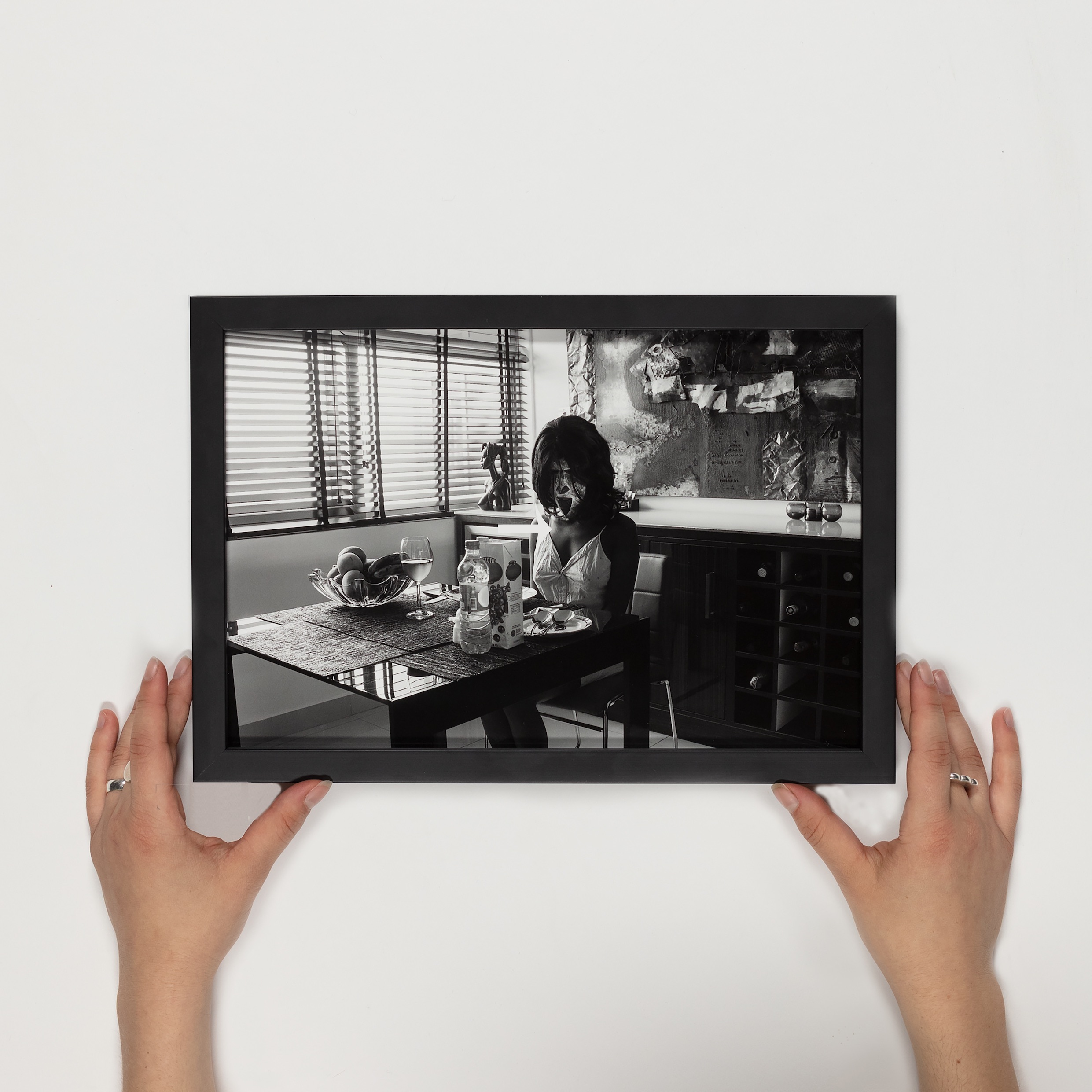 Jenevieve Aken
The Masked Woman
2014
b/w fibre based bromide print UNFRAMED
Print Size: 20cmHx30cmW
Edition of 20
+ About the work
The Masked Woman is a series of self-portraits that explores the representation of gender in contemporary Nigerian society. It attempts both to avert and subvert the overarching male gaze by facing that gaze head on. The images portray the solitary lifestyle of the "super femme fatale" character, who chooses pleasure and contentment through self-fulfillment, rather than by adopting the subservient role of the house wife or the woman as defined through a man's affection.
While depicting a confident and sexually free woman, the subject's mask and body language also make subtle hints towards the possibility of her isolation; a reference to the stigmatization she may also experience in a society that has limited and strictly defined perceptions as to what a 'proper woman' should be and how she should behave.
By diverting the status-quo and exercising freedom of choice, such women are perceived as extreme, eccentric, and outside of polite society in Nigeria. In The Masked Woman, Aken gives voice to a growing number of independent, professional women in Nigeria who at once assert their autonomy while also being ostracized by cultural norms.
Aken writes: "Rather than waiting for the narrative to be told from the outside, I choose to give birth to my own freedom, in hope that it will inspire other women in Nigeria to express their independence and free-will."
+ About the artist
Aken is an artist, photographer and story-teller who focuses on social documentary photography, images and representation. Often through self-portraiture, she explores personal experiences and contemporary social issues of identity, sexuality, gender and social roles in contemporary Nigerian culture and society.
Aken's work has featured in the past three editions of LagosPhoto Festival in Nigeria (2012-2014-2016), as well as The Ford Foundation in Nigeria (2014), Joburg Art Fair in South Africa (2014), Prisma Human Right Photo Contest in Venice (2015), Grid Cape Town Biennale in South Africa (2015), Rush Art gallery in New York (2016), Photovillenyc Festival in New York (2018), Daegu Photography Biennale in South Korea (2018).